Crown of Midnight by Sarah J Maas
Series: Throne of Glass
Published August 15th 2013 by Bloomsbury Childrens
Genre: young adult, fantasy, romance
links: Goodreads | Amazon | Book Depository
rating: ★★★★★
summary:
Crowned by Evil.
Bound by Duty.
Divided by Love.

Celaena Sardothien, royal assassin, is the King of Adarlan's deadliest weapon. She must win her freedom through his enemies' blood – but she cannot bear to kill for the crown. And every death Celaena fakes, every lie she tells, put those she loves at risk.

Torn between her two protectors – a captain and a prince – and battling a dark force far greater than the king, Celaena must decide what she will fight for: her liberty, her heart or the fate of a kingdom…
∝
Yes, I finally picked up Crown of Midnight after I read Throne of Glass about two years ago. WOOHOO!! For so long, I've been reading other people's reviews or comments of the series as a whole so I was quite surprised that I actually liked Crown of Midnight. I liked that Sarah J Maas doesn't flower her words, so it was easy to read.
Normally I would be shipping a certain love interest with the main character right off the first book but I didn't this time. Sorry to all Chaol-ships and Dorian-ships but I don't necessarily ship Celaena with Chaol nor Dorian. One of my most notable reason why I didn't ship Celaena with anyone was because in Throne of Glass, she was leaning towards Dorian but now it's Chaol. This love triangle threw me off balance so I'm currently not shipping Celaena with anyone.
Out of everything, I'm most invested in the characters. Celaena celaena celaena. HOLY FREAK. I loved moments when her assassin instincts just kick in and she's doing flips and throwing knives. I lived for that throughout the book. GIVE ME MORE! Dorian was a little bit boring for me in Throne of Glass but his presence in Crown of Midnight was felt and significant. He's still the guy who loves reading and a down-to-earth prince, and most importantly, he doesn't let his father manipulate him. We have a peek into Chaol's life before he became Captain of the Guards, and it's obvious that he's having an internal struggle between his honour and doing what feels right. Ever since the first book, Nehemia had been a great emotional support for Celaena.
Sarah J Maas have been keeping many secrets from us, the amount of revelations in Crown of Midnight is shocking.
---
NON-SPOILER SECTION IS OVER! LET ME KNOW WHAT YOU THINK OF CROWN OF MIDNIGHT! I'm worried about the rest of the series, so I'm proceeding with caution now.
---
this book has a serious lack of communication between all the characters. I can't believe that they can't trust each other with information. at least, it's understandable that no one will openly announce that she is the lost queen of terrasen. but nehemia could've told celaena about the movement (regardless celaena's doubts and refusal to be a part of any rebellion), chaol should've told celaena about the king's questionings and dorian could've told chaol about his newfound powers (I'm sure they're close enough).
I know nothing would've happened if all these weren't snowballing, and if that nehemia didn't die, things wouldn't have gone this way but infuriated me to no end.
I predicted that celaena was the lost heir of terrasen. not hard to decipher that ever since it was mentioned in throne of glass. but I absolutely loved how sjm revealed it. by chaol reading it from an ancient royalty book that was casually sitting in celaena's room. I just wished dorian knew too, so that they have no miscommunication and can look out for each other while celaena is gone.
even though I wasn't much on the ships, I didn't expect the departure of celaena with chaol at the docks to be so painful and the one between dorian and her to be so bittersweet.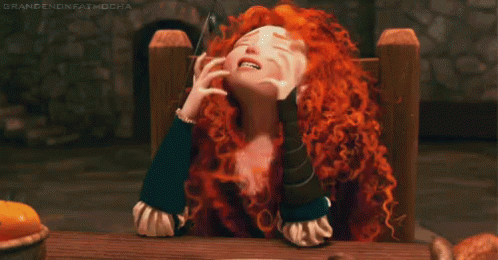 nehemia's death. I felt celaena's agony when she lost nehemia. have no idea why nehemia didn't want to out right tell celaena that archer can't be trusted. and why didn't she want celaena to know the language of wydmarks and stuffs? she's an assassin, the
most deadly one we all know, she's already in danger being the king's champion. (the amount of times I scream "JUST SAY IT", is uncountable)
but the aftermath of nehemia's death, the rampage celaena showered onto everyone in her way. I WAS IN FOR THAT. crown of midnight was constant and consistent when it comes to celaena. she is the deadly assassin who people feared, always underestimated by arrogant man (erhmm, grave) but triumph in every turn and way. reading about her fighting was one of the best part of the book. every time they refuse to talk to each other and be secretive about EVERYTHING, it exasperates me so badly. I just want to lock them in the room and force them to talk… (but, celaena will probably not talk and find a way to escape that room..)
guys, dorian has magic!! I'm loving his character so much now. he certainly went through a great deal in crown of midnight. let's see.. after being dumped by celaena, he's more in tuned with chaol's feelings for her, and he finally decided to give up on celaena. HIM LOOKING AT THEM DANCE UNDER THE MOONLIGHT KILLED ME OKAY. IT HURTS. then, finding out he can wield magic, and nehemia sort of knows, BUT, she dies so he didn't have anyone to turn to. also, he was probably played by roland the whole damn time. YOU'RE TOO KIND DORIAN. he doesn't know what his father possesses at the moment (because again, nobody's telling him anything). him having powers has elevated his playing field with his father and perrington whom we've not seen as much as in throne of glass.
chaol can be quite stoic but he's really sweet to celaena when they're together. his only mistake was not telling celaena about the threats that nehemia received which is purely dumb.. celaena holds nehemia with such high regards and other than chaol & dorian, she's the only one celaena actually opens her heart for. WHY DID YOU NOT TELL?! it was CRUCIAL BRO! I loved that he sent her back to her homeland & now she's the most dangerous threat to adarlan. WOOHOO GO CELAENA! also, he's going back to his own hometown too, now dorian and him are going to separate. WHAT GOOD DOES THAT DO?! gosh, they're giving me a heart attack.
the romance was sweet but it wasn't for me. I lived for the action and all the magic. celaena being an absolute badass with all her cool moves is my favourite other than reading celaena (duh).
revelation: celaena is fae. there's so many new things we've learnt about her in crown of midnight – being the heir and being a fae. it's incredible that I'm having flashbacks to acotar because I just love the cast in that world. and I love cross World Series like the shadowhunter chronicles.
I want to know what you think of crown of midnight! should I be worried if I like heir of fire? it seems like everyone either love the series or hate it… anyway, I bought the rest of the series already (minus chaol's book) so either way I'll definitely be reading every book.
But death was her curse and her gift, and death had been her good friend these long, long years.